Programs/Organizations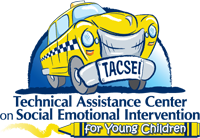 Technical Assistance Center on Social Emotional Intervention (TACSEI)
The Technical Assistance Center on Social Emotional Intervention for Young Children (TACSEI) was funded by the Office of Special Education Programs to identify, disseminate, and assist with the implementation of the most successful, evidence-based practices available to improve the social, emotional, and behavioral functioning of young children with or at risk for delays or disabilities. TACSEI offers information, training opportunities, materials, and technical assistance related to the implementation of the Pyramid Model for promoting young children's social emotional competence and addressing challenging behavior within early intervention and early childhood programs. The TACSEI web site offers a rich array of resources for families, professionals, trainers, and system administrators. Contact Lise Fox for more information.

---
Publications
Prevent–Teach–Reinforce: The School-Based Model of Individualized Positive Behavior Support (Glen Dunlap, Rose Iovannone, Donald Kincaid, Kelly Wilson, Kathy Christiansen, Phillip Strain, Ph.D., & Carie English. Brookes Publishing, 2010.)
---
APBS Library (Published by the Association for Positive Behavior Support (APBS))
Geared mostly for professionals. Latest research news & articles on evidence-based practices.
---
Resources: Practical Strategies for Teachers/Caregivers (Published by the Center on the Social and Emotional Foundations for Early Learning (CSEFEL))
---
Free Behavior Charts, Chore Charts, Potty Charts, Teeth Care Charts, and Kids Charts (Published by Free Printable Behavior Charts.com)
---
Positive Behavioral Supports: Information for Educators – What is Positive Behavioral Support? (Published by the National Association of School Psychologists)
---
Behavior Suite (Published by the National Dissemination Center for Children with Disabilities (NICHCY))
Includes separate behavior pages on these topics:
Behavior Expertise
Behavior Assessment, Plans, and Positive Supports
Behavior at Home
Behavior at School
Bullying
---
Practical Functional Behavioral Assessment Training Manual for School-Based Personnel (Published by the OSEP Technical Assistance Center on Positive Behavioral Interventions and Supports)